Patients have been receiving treatment through medical tourism during the COVID-19 pandemic safely and effectively. Hospitals, surgical facilities, and hotels in Mexico are kept very clean to protect patients and staff.
The New York Times recently reported that medical tourism is still alive and thriving in Mexico during the pandemic: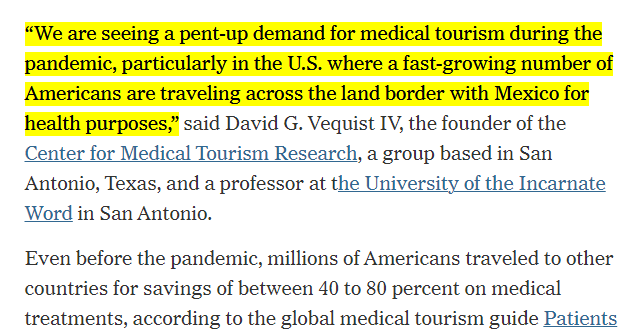 The U.S. / Mexico border is technically closed but those travelling for medical purposes are permitted to drive through and back. It'll be important to find the right ground transportation company to safely drive you across the border. At TreVita, our medical tourism packages include private ground transportation to get you there and back.
At TreVita, we have put in place additional safety measures to protect the health of our patients and the medical staff. Read below or visit our COVID-19 page for more information.
Safety Precautions for Medical Travel during COVID-19
All patients and travel companions required to take PCR Test 5 days prior to surgery. NOTE: please bring negative test results for the doctor to review.
If you've received both doses of the COVID-19 vaccine, a COVID test is not necessary. Just be sure to bring your vaccine paperwork for doctor review.
Private hospital rooms provided to all patients.
Mask must be worn throughout duration of stay in Mexico by patient and travel companion. It's permitted to remove your face mask while eating, drinking, or with the doctor's consent.
At hotel, doormen will check your temperature and dispense hand sanitizer on your hands prior to entering.
In addition, TreVita patients also receive a complimentary goodie bag upon arrival in Mexico. It includes some free gifts, additional face masks, and hand sanitizer. 
If you have any questions about the medical tourism process during COVID-19, don't hesitate to contact our team today. We'll get back to you within 24 hours!